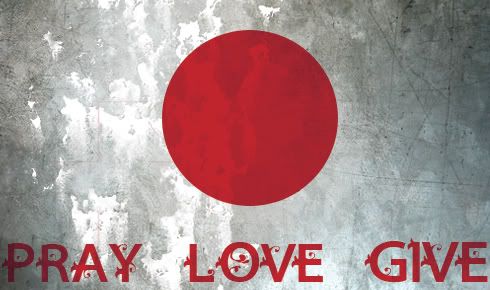 I just found out about an initiative to raise money for Japan; the bloggers day of silence is today and since I already posted something today I figured I couldn't participate, but I can share with all of you different ways to support the Japanese people in the middle of this devastating time.
At Urban Church we have partnered with Convoy of Hope a leading "first responder" organization in disaster relief. You can contribute towards their efforts here.
I also found other creative ways to get involved, you can buy this SOS necklace, this beautiful print or buy and wear the wristband Lady Gaga's people came up with. You can also text "REDCROSS" to 90999 and you will donate $10 to the Red Cross Japan. You can also tweet using the hashtags #helpJapan or #PrayForJapan keeping this topic at the top of the trends and therefore keeping it on people's minds.
If you can't contribute in any of these ways, and even if you can, I encourage you to pray for the Japanese people, I have been reading miraculous stories of rescues, our prayers are heard.