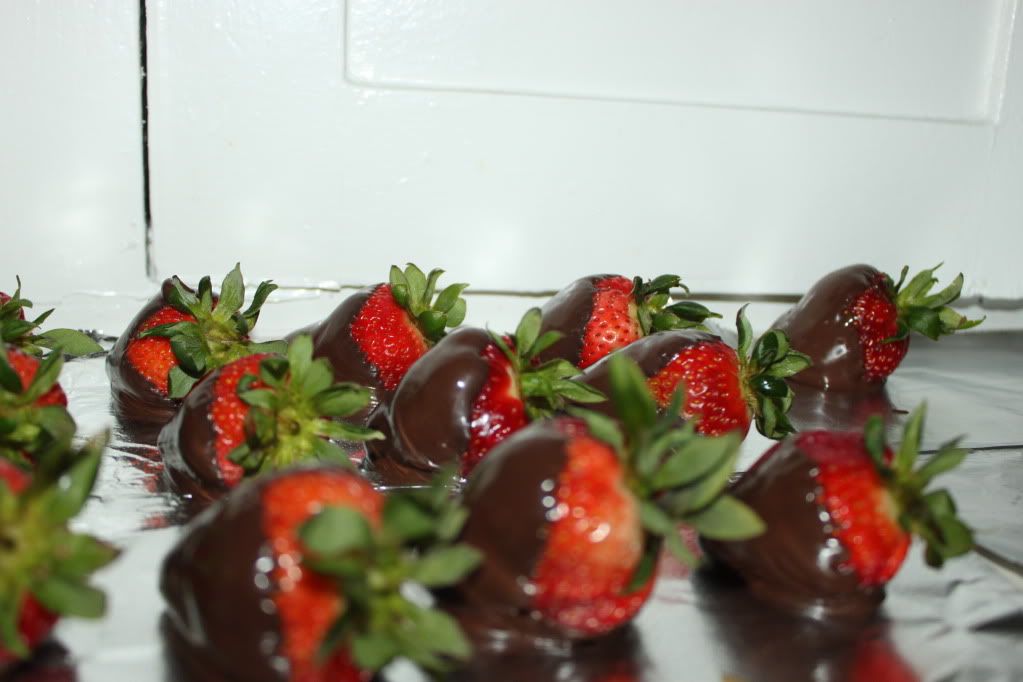 Have you ever made chocolate covered strawberries, they are like little red and brown pieces of heaven that melt in your mouth like the most wonderful treat ever created. I love them, I would eat them everyday if it wasn't so pricey and time consuming to do them right. Last week we made them for movie night and our friend and neighbor Tranica brought dinner which consisted of the most outstanding butter and parm squished potatoes and awesome sandwiches on 7 grain bread with all this awesome goodness between the bread including avocado, turkey and bacon. My belly smiled BIG at Tranica.
Here is the recipe for the potatoes Tranica shared* with me.
Butter and parm squished potatoes (Serves 4)
2 Lb. Baby yukon gold potatoes

2 1/2 Cups of chicken broth

2 Tablespoons of extra virgin olive oil

Black pepper

2 Tablespoons of butter

2/3 Cup shredded Parmesan cheese
Put the potatoes in a medium pot in a single layer. Pour in enough stock to come 1/4-inch up the sides of potatoes, and add the extra-virgin olive oil. Cover, bring to a boil, reduce heat to simmer and steam for 10 minutes. Remove the lid, raise the heat and reduce the stock. When the stock evaporates, squish potatoes to flatten them a bit with a masher. Crisp the potatoes a few minutes on each side, then season with black pepper. Stir in the butter and cheese and toss.