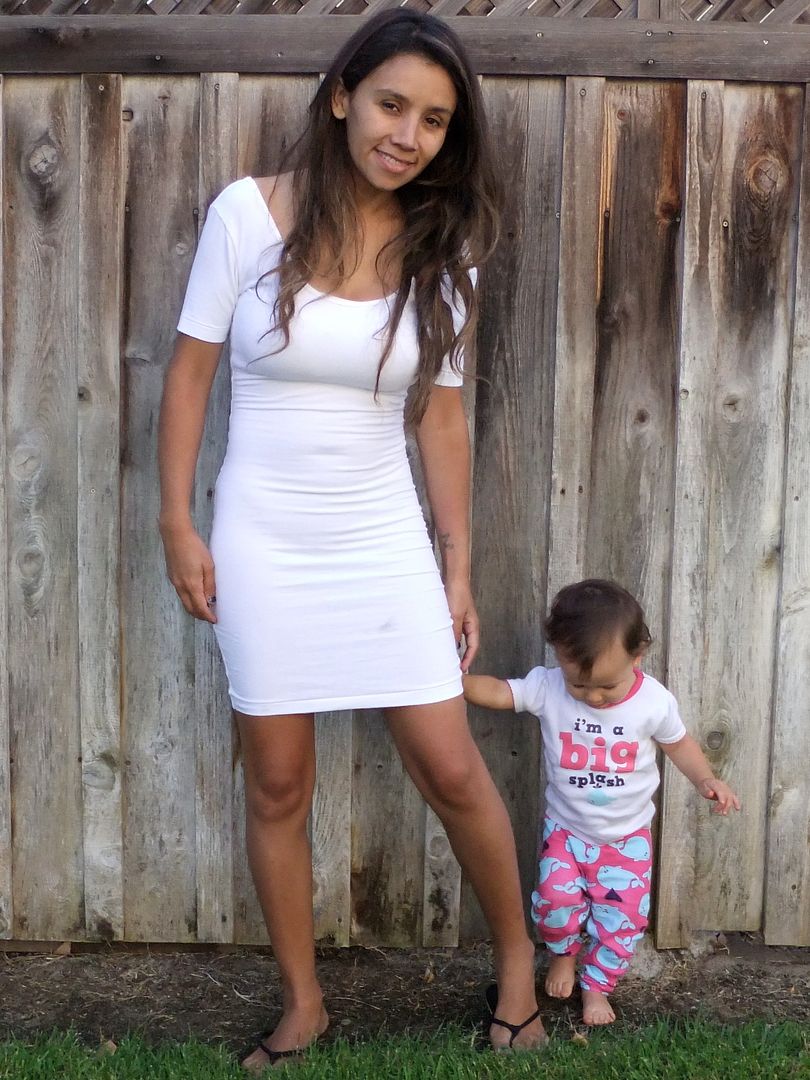 Week 15
Weight - 1 lb
Inches - 4 inches
Like - Nothing in particular.
Dislike - The heat
Caleb and I are planning our vacation week. And camera-less we will enjoy Morro Bay, Monterrey, and San Francisco. So I've been planning away, and again not paying much attention to the fact that indeed I am carrying a small person inside of me. But it works great because I may be tired, but I just don't feel it as much, and the nausea lingers, but we pretend it is all good. And yes, being busy explains why Antonella is in pajamas and barefoot in this pictures.

I've been looking like I ate way too much, even though I don't since I am nauseous often. Thankfully with my regular clothes (and not the unflattering white dress), I am able to disguise it. All my jeans still fit perfectly, as do my shorts, and skirts, and pants. This is definitely too much info, but the only thing I've had to buy is bras. It's amazing what pregnancy + breastfeeding will do to your bra size. I must admit I am not enjoying that part one bit.

We still haven't gone to the doctor, but it looks like we will be able to once we get back from our vacation. I am looking forward to our first ultrasound and to talking about this baby with my midwife. We have been able to hear the heartbeat because our friend Courtney is letting me borrow her doppler. That has been so much fun. Antonella doesn't know what's happening when we listen, but we still make her listen and talk to her about the baby.
Here we go week 16!
-----//-----
Semana 15
Peso - 1 lb
Cintura - 4 pulgadas
Like - Nada en particular
Dislike - El calor
Caleb y yo hemos estado planeando nuestra semana de vacaciones, y sin camara vamos a disfrutar Morro bay, Monterrey y San Fracisco. Entonces he estado ocupado trabajando, dejando todo listo, planeando y no poniendole mucho cuidado al hecho que estoy embarazada. Pero ha funcionado porque me siento cansada pero como no le paro bolas sigo y me siento mejor. Las nauseas siguen pero yo pretendo que no y despues de un rato se me pasan. Y estar tan ocupada explica porque Antonella esta en pijama y descalza en estas fotos jaja.
Me veo como si hubiera comido mucho, no tengo barriga de embarazada, sino barriga de comelona jaja a pesar de que no como mucho por las nauseas. Afortunadamente con mi ropa normal (y no el vestido blanco que hace ver todo horrible ja), no se ve nada todavia. Todos los jeans me quedan buenos, y los shorts, faldas, pantalones. Esto es demasiada informacion, definitivamente, pero lo unico que he tenido que comprar es brassieres. Es increible lo que un embarazo + darle pecho a un bebe hace con tu talla de brassiere. Esa parte no ha sido muy divertida.

Todavia no hemos hido al medico, pero parece que una vez regresemos de nuestras vacaciones vamos a poder ir. Ya quiero ver el primer sonograma y hablar de este bebe con nuestra doctora. Gracias a nuestra amiga Courtney y su doppler hemos podido oir el corazon de este beb, es increible lo que se siente cuando oyes el corazon de los bebes. Antonella nunca sabe que esta pasando pero hacemos que oiga con nosotros y le hablamos del bebe.

Ok semana 16 aqui vamos.