So, as I said it all started with
Batman
on August 15th; contractions were 4 and a 1/2 minutes apart during the movie and by the time we made it home they were 3 and a 1/2 minutes apart. Caleb called the midwife and she wanted to talk to me, I had a contraction while I was on the phone with her and she said "I think you should come in."
So I showered, I changed clothes, Caleb made sure everything we needed was in the car, grandma and mom helped getting me ready and we headed to the hospital.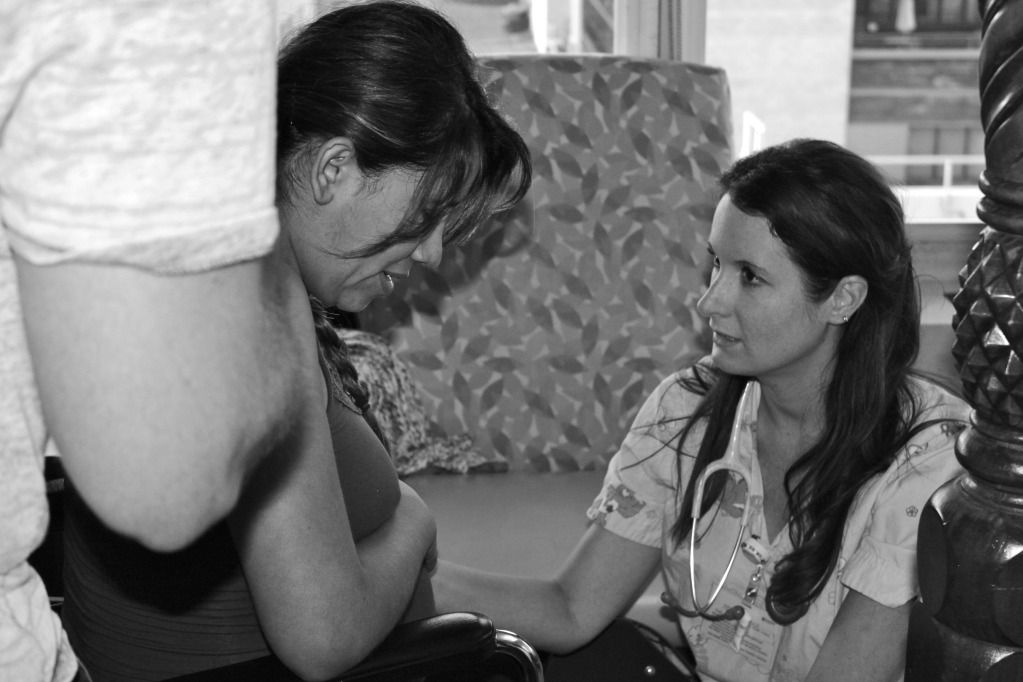 By the time I made it to the birthing center room, around 7pm, I was at 2 minutes, my nurse Carey was wonderful and started putting counter pressure on my hips with every contraction which helped a lot. They asked me if I wanted to have a doula and we said we'd love one. The sun was setting and the room had an outstanding view, my sweet husband asked me look at the sunset in the middle of a contraction to which I replied "I really don't care" and then I said "I am sorry I love you." Our nurse was laughing because I apologized and he thought I should look at the sunset.
The midwife was busy with another lady so it took about an hour to come and check me, that's what the watch said, to me it was half a day, each contraction was lasting a minute and a half and they were now coming every minute to 40 seconds. The doula arrived and she came with another doula in training, it was now about 8pm and when they saw me and walked us through a couple contractions they said it looked like I was going to have the baby pretty soon.
My midwife arrived and checked me, and when she said I was at 3cm I was a little bit disappointed, but I thought it's ok, I'll get to 10 quick with these contractions. The contractions started coming every 30-45 secs and they were 1min to 90secs long. Some of them would come without a break, right on top of the last one; they were so intense, I was shaking with everyone of them and it was hard to keep calm and let my body work with the contractions. Caleb was now doing the counter pressure and breathing with me. He didn't really leave my side, he was right next to me, encouraging me, breathing with me, laughing a couple times because I would say silly things or grab his neck too hard.
They sent a doctor to check the amount of fluid in my belly, she needed me to be on my back for an ultrasound and it was hard to stay there but she was very understanding. After checking me she said I only had 2.2cm of fluid, they paged the midwife and she came and told me they had to move me to the hospital, to a regular labor and delivery room because the baby didn't have enough fluid.

I don't know if it was before the ultrasound or after the ultrasound, but it was around 945pm, and my midwife checked me again. I was hoping for 7cm, 6cm was a worst case scenario. She checked me and I was still at 3cm. I looked at Caleb and told him I couldn't do it. It was too much, my husband as usual was his encouraging, loving self and told me I could, he kept saying "you can do it love, you are doing so well, I am so proud of you" that man really is amazing, he kept calm through the whole process.
The midwife said I should consider an epidural, they had to move me down to the hospital and my contractions were active labor contractions but I was in early labor. The doulas said that was probably the right decision for me. We didn't hesitate, I wanted the epidural. After about 30 minutes Carey, the nurse, gave me percocet through an IV and it took the edge off, the pain was still there and it was intense but I was able to bear it.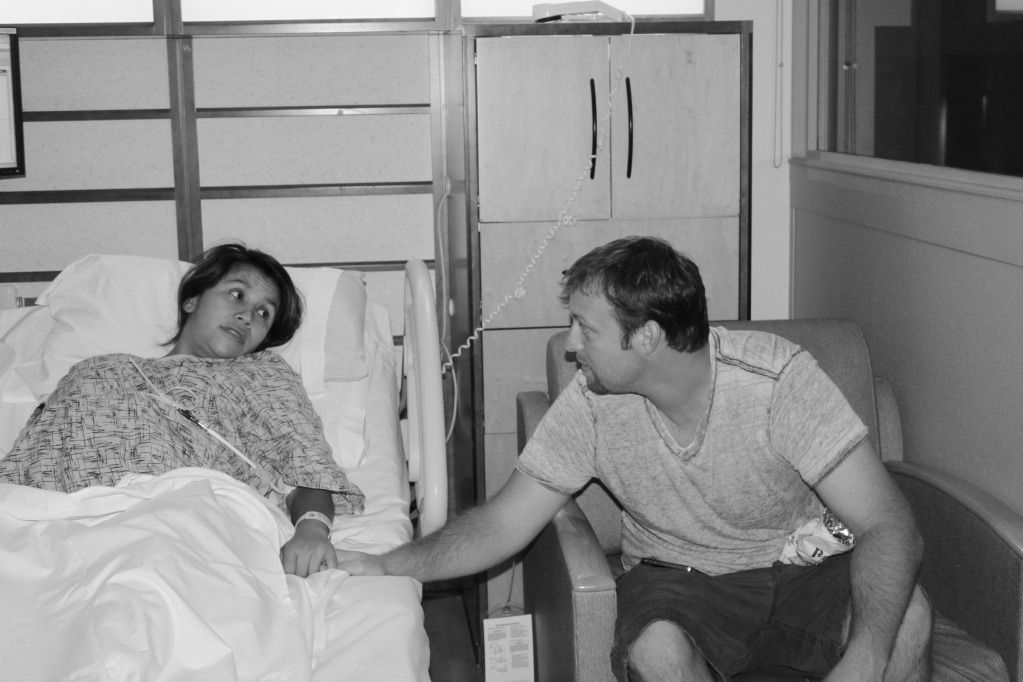 At 1030pm they had me ready for the epidural, the anesthesiologist came and gave it to me, and it was amazing. I was so calm now. The contractions were still coming every 30 seconds but I wasn't feeling them and I was able to talk to people and be present. The doulas told us they had never seen anybody have contractions that intense, that close, so early and kept insisting we made the right decision. They were very encouraging and sweet too, it was so nice to have them there.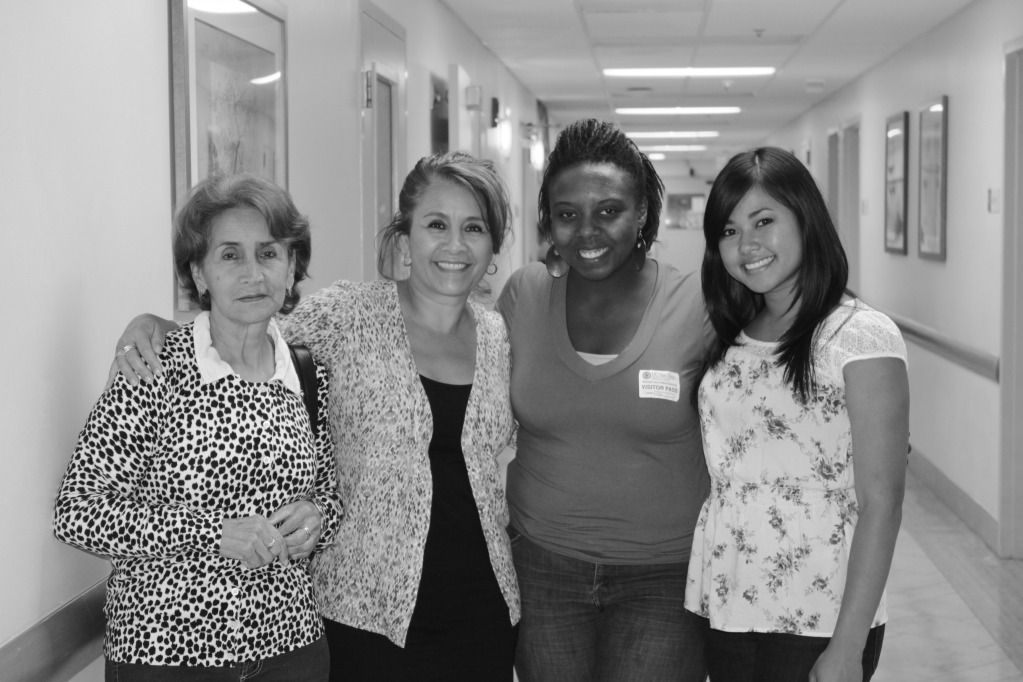 We asked Erin, my friend who was there in charge of praying through the process and assisting Caleb, and Michelle, there taking pictures for us, if they could please take mom and grandma home and then go home themselves to sleep. Everybody was taking a nap. So at 11pm Caleb and I closed our eyes and got some rest. We all thought the process was going to take hours, they would all be called in the morning.
At 1230am I woke up from the nap because I could feel water coming out of me. I woke Caleb up and told him to record the time, my water had broken! We called the new nurse, Stephanie, and told her we thought my water broke, she came in, checked and said indeed my water had broken. Then she paged our midwife. When she came to check at 1am me she said I was already at 7cm; progress!!
She told us to go back to bed, soon I was going to need all my energy to start pushing. We talked for a little bit and prayed together, our doulas came in and I asked them about pushing, I have never pushed, I didn't know what to expect. They talked to us about it for a little bit and then insisted we closed our eyes for some rest. But Antonella's heart rate was dropping when I was laying on my right side, so they had me lay on my left side and she was doing better. The only problem is that the epidural was wearing off on the right side, I wasn't getting enough because of gravity. It wasn't as intense as before, but it hurt. The doulas started massaging my right hip with oil and showing Caleb how to do it and they called the anesthesiologist. He adjusted the cord that was hanging from back and gave me a little bit on the iv and it helped.

The doulas insisted we slept so they left us in the room alone again. We talked for a little bit, prayed and just laughed at how crazy the first hours had been. Apparently at one point I almost ripped my husbands ear off as I had an intense contraction and my hand slipped from the back of his neck to his ear. He started laughing as I was having the contraction and then apologizing because he's a nervous laugh-er, he laughs when he's nervous or uncomfortable. We laughed at the fact that he wanted me to see facebook and all the sweet people that posted pictures of themselves with candles (which meant they were praying for us) while I was having the most intense pain I've ever felt. We just spent time together, and then we close our eyes.
Around 2:30am our midwife came in the room to check me again. She checked me and I was at 10cm, soon I had to start pushing, we called Erin and Michelle and asked them to please get mom and grandma, we called them too so they could be ready. Antonella's heart rate kept dropping if I made the slightest movement, and now it was dropping with contractions, even if I didn't move. My mom, grandma, Erin and Michelle made it to the hospital. It was time to push.
With the first contraction I had they asked me to push, I inhaled and pushed as I was exhaling. My husband told me they wanted me to not exhale, just push for 10 secs and then exhale. So we tried again, I inhaled, pushed with everything in me and when I heard 10 I exhaled, then I did it again, and then one more time. The midwife said I did great but the baby's heart rate was dropping and she didn't move closer to being out.
They wanted me to try one more time, so one more time I inhaled, pushed, heard 10 and exhaled, and then I did it two more times in that contraction. Baby's heart rate was dropping still and she wasn't moving. It was now about 3am and the midwife told me she was going to call a doctor because the heart rate kept dropping. She was very nice and made me feel calm even though I was starting to worry a bit. Caleb came really close to my ear and started whispering prayers, that really helped me, it reminded me my daughter is a gift from God, a promise, I had nothing to worry about.
My husband continued praying and kissing my forehead and the doctor walked in with a couple other doctors besides him and a couple nurses. He explained the baby needed to come out as soon as possible because her heart rate was dropping dramatically with contractions. He said we could use forceps to try and aid her out, or we could do a c-section. Caleb asked him what he would do if it was his baby and he said forceps. So it was decided, forceps were going to help my daughter out.
They asked everyone to leave the room but Caleb, pediatricians and more nurses needed to be in the room. They put the stirrups up (so far I had been pushing on my side with my right leg propped up by my husband), andeveryone in the room started washing their hands and putting on all these gear, face masks, gloves, hats, all kinds of stuff.
Once everyone was ready one of the doctors started setting up the forceps, it took her a few minutes to get them set up and once they were ready they said I had to push with the next contraction. My doulas, midwife and Caleb were there encouraging me, Caleb was still praying kissing me and I knew in about 30 seconds i had to push. The contractions had been coming every 30 seconds for almost 8 hours, and we sat there for 3 minutes without one contraction, but Antonella's heart rate was dropping. The doctor said I was going to have to push without the contraction and so we did. Inhale, push, hear 10, exhale. The doctor said I did great, and then all 3 doctors said oh that's why, the cord is around her neck. They took the cord off of her neck and asked me to push again.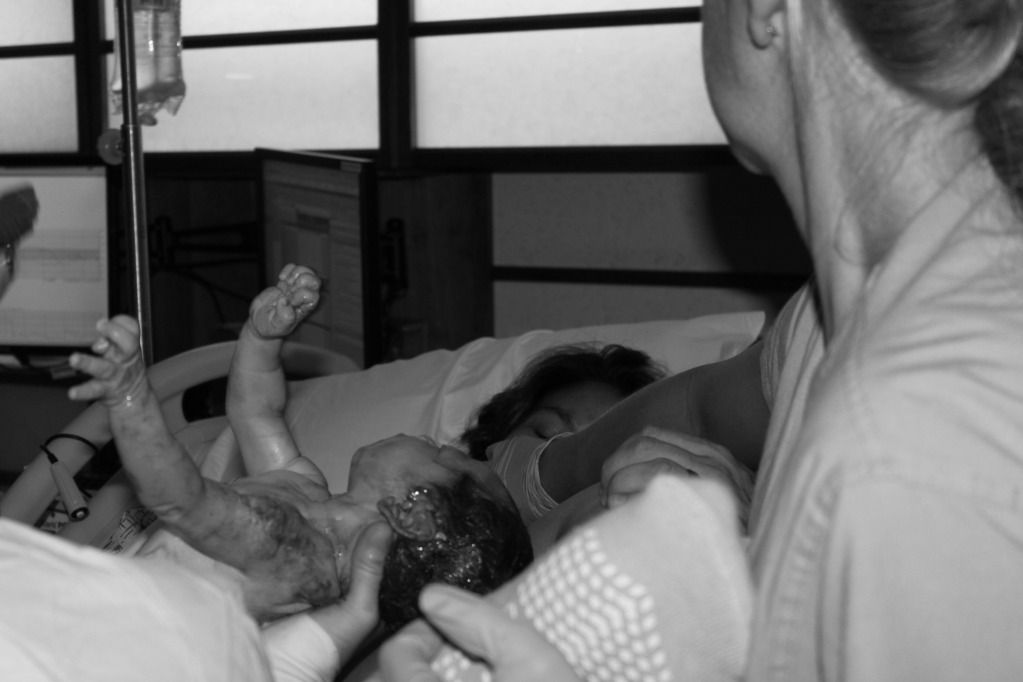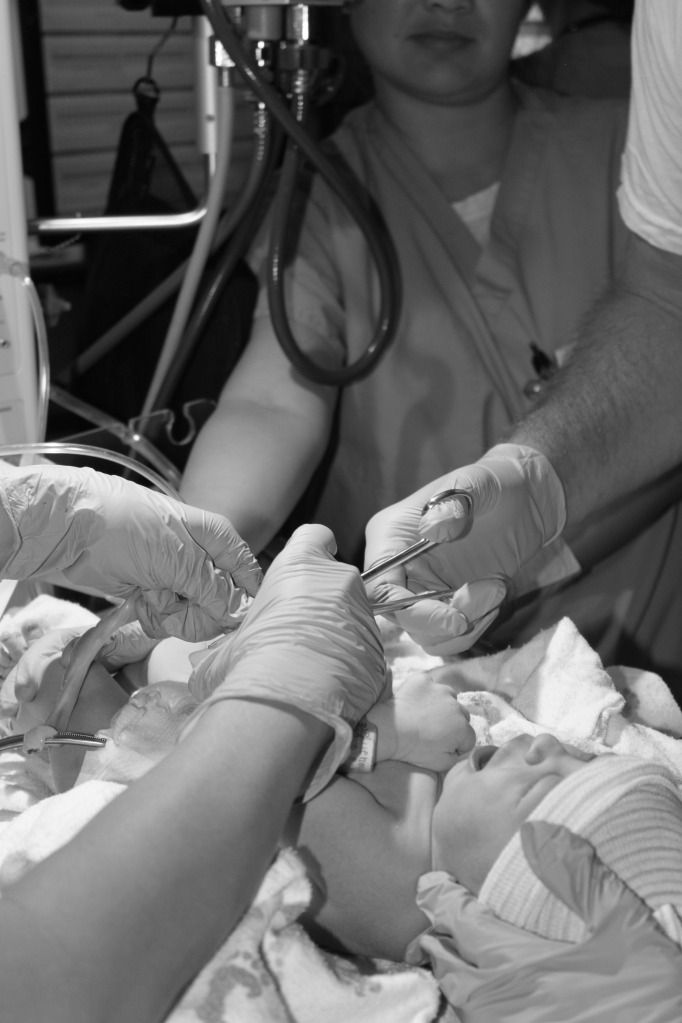 Push again I did, and then again, and then they asked me to push one last time. The cord was wrapped around her body too, my baby girl moved so much she got herself all wrapped around that cord. She didn't cry, they immediately gave her to me for some skin to skin and she stared at me, and I cried and her daddy just held us both and smiled and thanked God. They announced she was born at 3:35am on August 16th.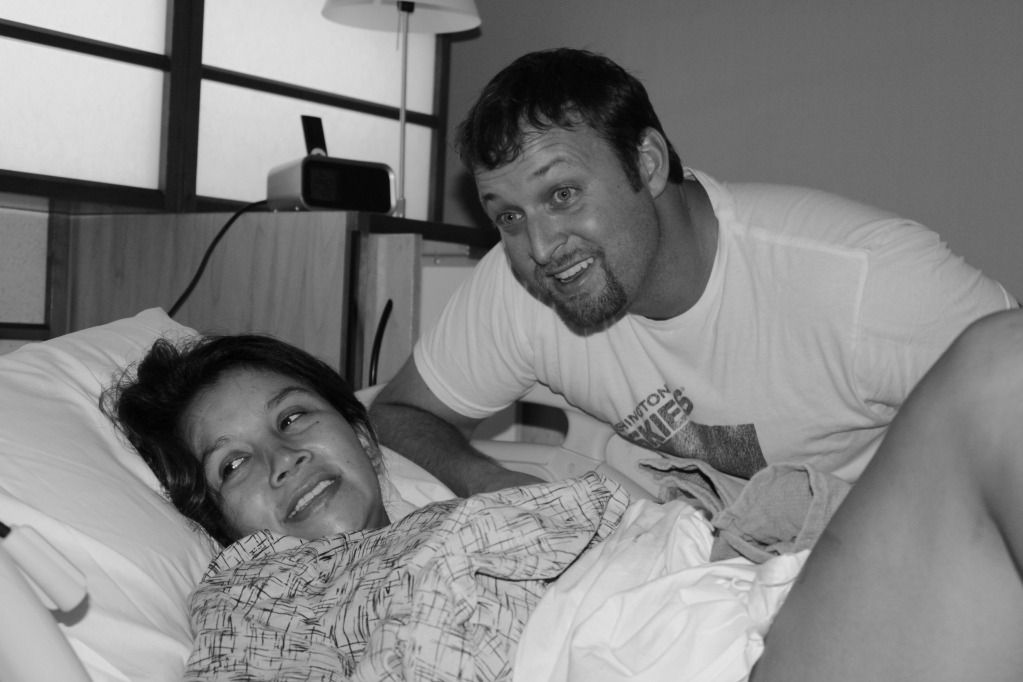 She stared at me for a few minutes and we just looked at each other and fell more in love. Then they asked Caleb to cut the cord and the pediatricians took her. Mom, grandma, Erin and Michelle walked back in then and were able to see her. Mom was crying and grandma just had a concerned look on her face. I learned later her face was due to the fact that she could see me completely as my legs were still up on the stirrups and they were sowing me up. I ripped in three different places, three different directions, the doctors were sowing me up for a little over an hour.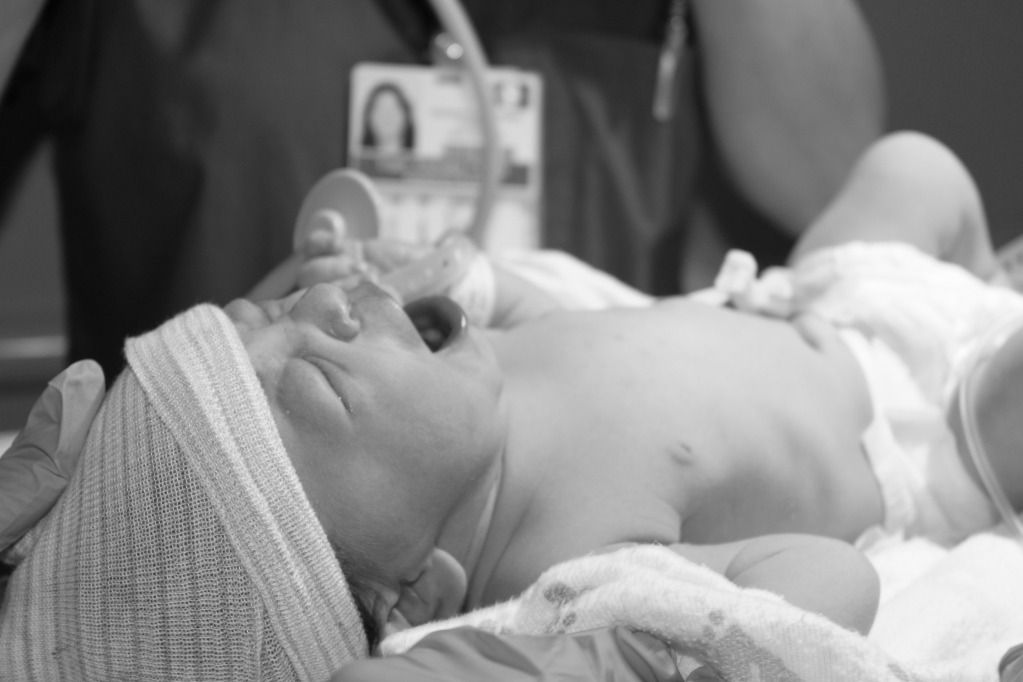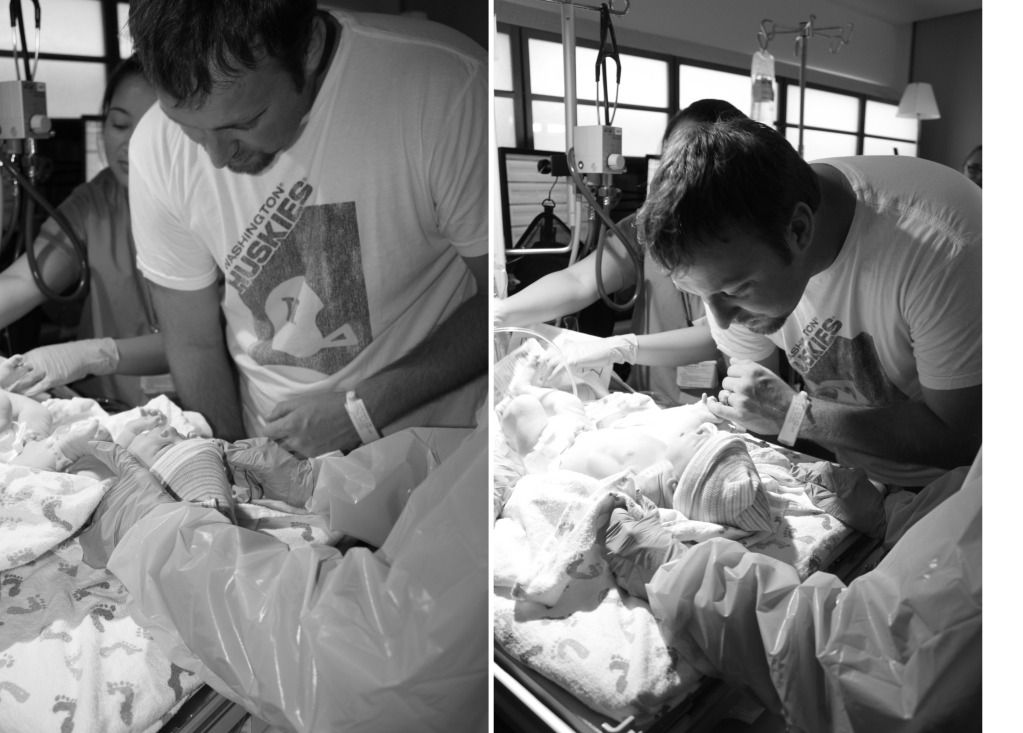 She started crying as they were checking her and trying to get everything out of her lungs. And then she pooped, my sweet baby waited until she was out of me to poop. As soon as they were done checking her they asked Caleb to cut the cord again, they needed it shorter. And then they gave her back to me to try to nurse. She was about 15 minutes old when she nursed for the first time. The nurse helped me and she latched on immediately. She ate for about 45 minutes and then they took her to measure her.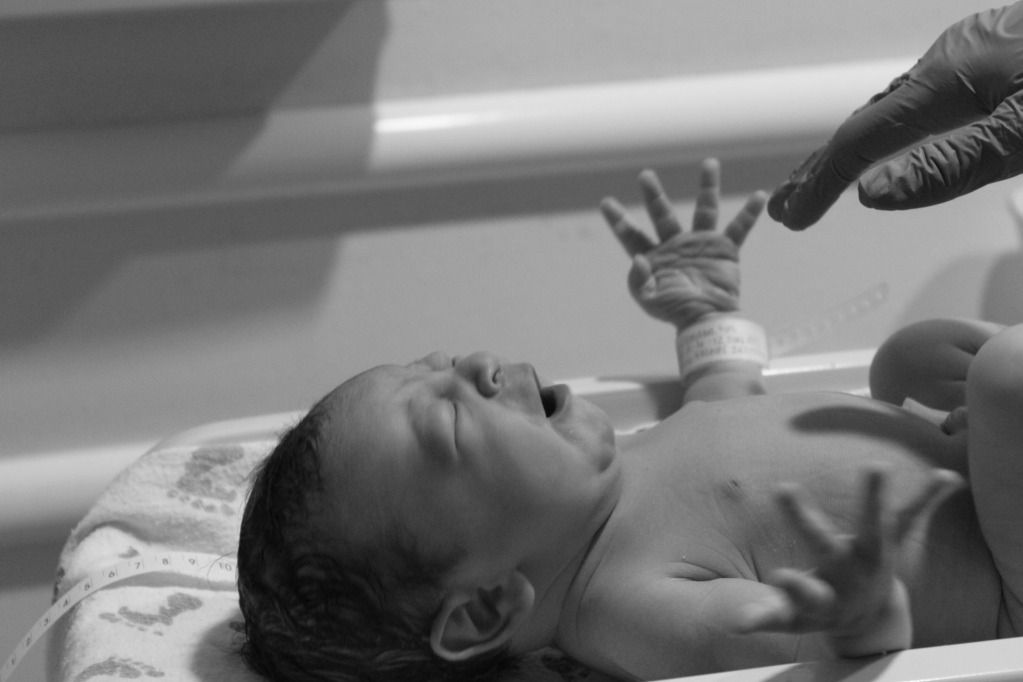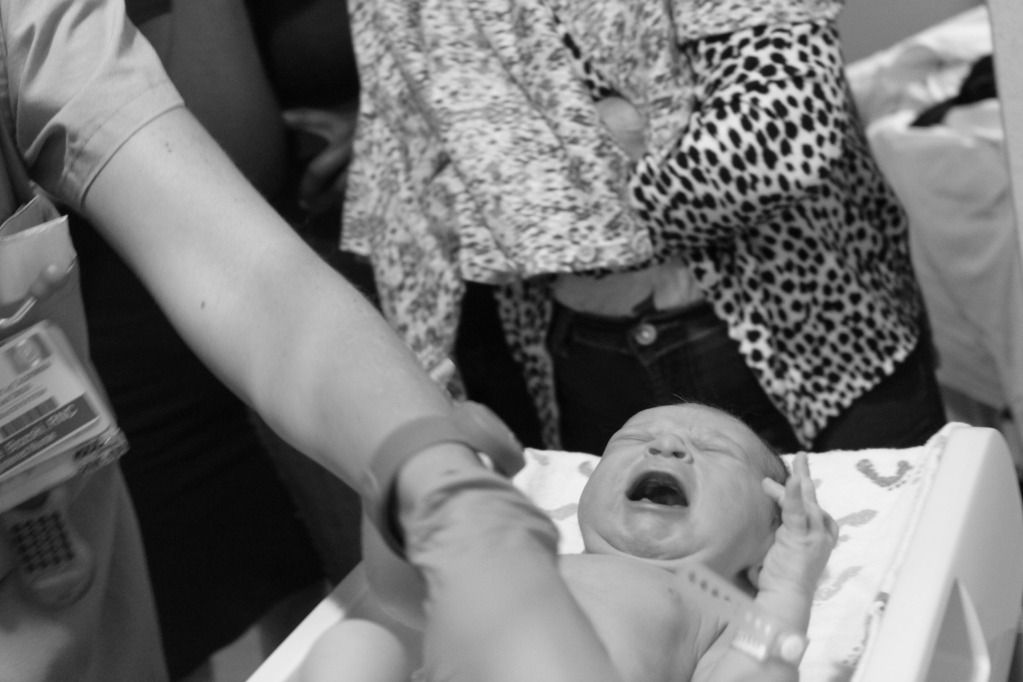 She was 7lb 2oz and 20inches long.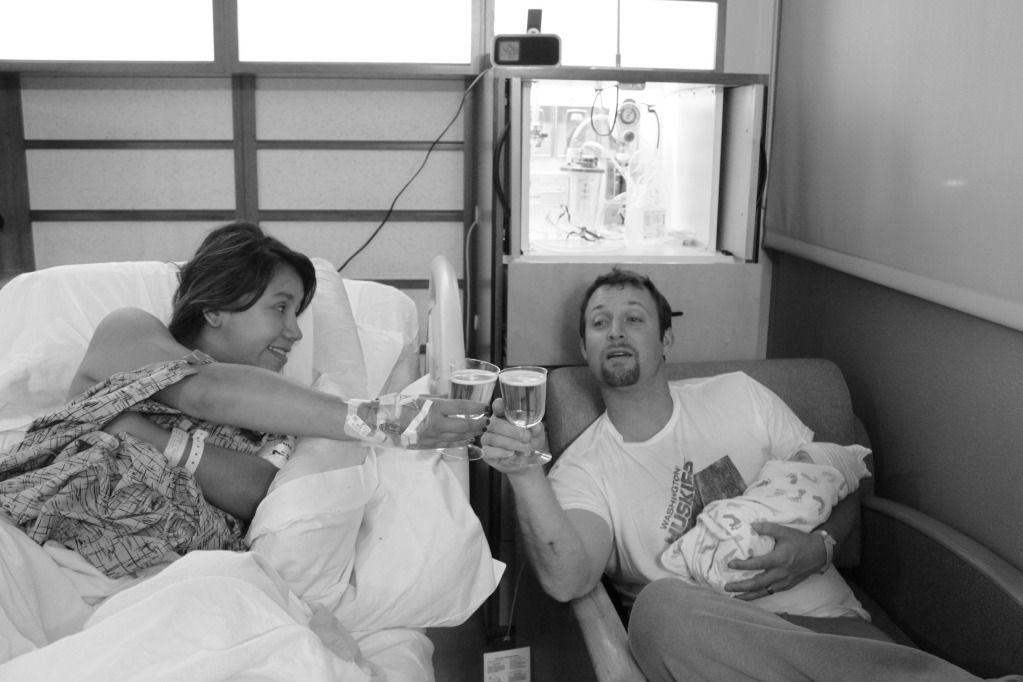 Sparkling apple cider to celebrate

She is perfect. Just absolutely perfect, we both feel like we found favor in the eyes of the Lord and He blessed us with much much more than we deserve. It is amazing to look at her and feel like she always belonged right here, next to us, we just didn't know it yet.
Welcome home baby girl, we LOVE you!